You can make money selling the valuable information in your head.
But creating a digital product can seem overwhelming, I know.
You're probably thinking...
💭 When am I going to have time to do that? I haven't posted on my blog in weeks and my to do list is a mile long.
💭 I have no idea what to sell. No one in my niche of guinea pig ownership/ needlepoint crafts/ fitness for post-menopausal women would ever buy an ebook or mini course from me.
💭 Digital products are so passe. Doesn't everyone and their mother sell an ebook or course? What could I possibly offer that's new and different?
💭 My audience is way too small, I need to grow my email list and my traffic before I launch anything.
Selling your own digital products is the fastest and easiest way to earn passive income from your blog, especially if your blog is tiny. And digital products work in every niche.
Don't believe me?
Well, let me show you...
I've always struggled to grow my audience and my email list. When I launched my first course in February 2017, I had 334 people on my email list.

I was selling a course on time management (not exactly ground-breaking knowledge here, folks). The course cost a measly $47. But I made $235 in a single week.

And then I kept making sales, month in and month out, until I shut down the course in August 2017.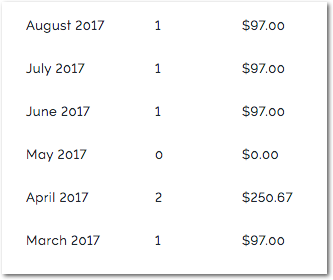 I also wrote several ebooks. They're less than 20 pages each, but they're exactly what my audience craves, so the sales come easily and consistently.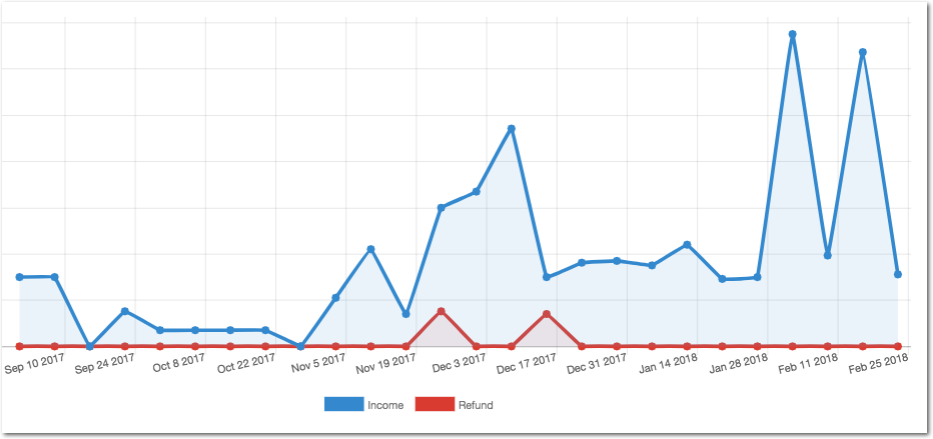 I'm not a blogging rockstar.
My traffic is a trickle.

Seriously, I just hit 5,000 page views a month, 18 months after I started my site!
My email list has been growing at a snail's pace 🐌, especially considering the time I put into it.
My traffic is so small that ad networks won't even accept me. My affiliate income hasn't been that great, either. It took me 18 months to get my first Amazon affiliate payout. For $10.85. 😲
So, digital products? They're the key to my success.

As a matter of fact, 80% of my income comes from my ebook and course sales.
But it's not just me, most of the entrepreneurs I know, especially those with small audiences, earn at least half their income selling their own digital products.
I want you to get a piece of that pie!
💡 But I know it can be hard to find a product idea.
⏲ And even harder to make the time to create your product.
😢 Selling it is scary, too, what if no one buys?
💻 Plus, how the heck do you set up the tech to make sales?
Well, have no fear, my dear.
I specialize in helping small bloggers reach big goals through better planning and productivity.
And in my No Fail Digital Product Workshop, I'm walking you through a proven system to create your first digital product.
Do you know what happens when you get that first payment notification in your inbox?
✔ You wake up excited to work on your blog because you know it's actually making you money.
✔ You have the confidence to keep creating and selling, so your future growth is inevitable.
✔ You easily build on that success, launching bigger, more expensive products until you reach the income goals you've set for yourself.
And you're going to get these results without constantly hitting refresh on your google analytics dashboard to check your dismal traffic stats.
Without stressing about the complete lack of affiliate sales you've made from your blog posts.
Without the confusion, overwhelm, and wasted time that most people feel when they launch their first digital product.
Imagine doing all this in just 2 weeks with a proven system that you can use over and over again.
Introducing...
The "No Fail" Digital Product Workshop
Launch your fail-proof digital product in just 2 weeks.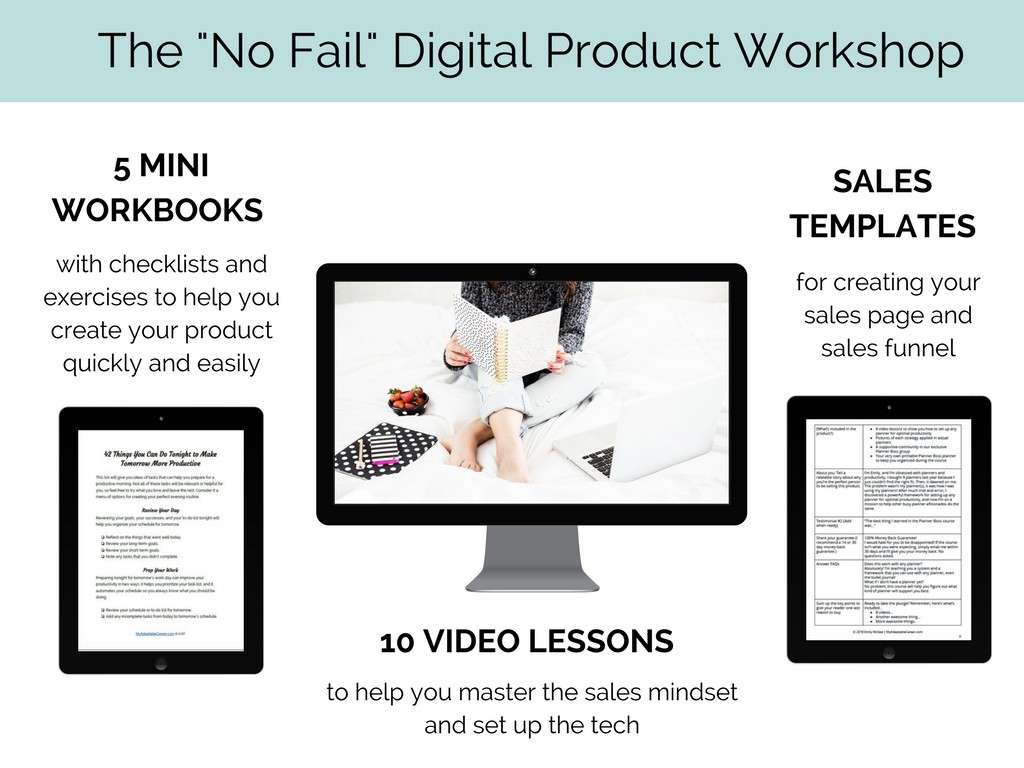 The Course Lessons: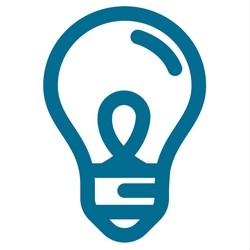 BRAINSTORM PRODUCT IDEAS Whether it's an ebook, a mini course, a template or printable, I'll show you how to come up with an irresistible product idea that your audience can't resist.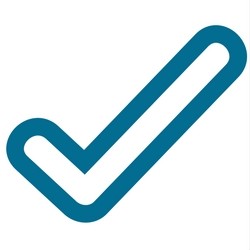 VALIDATE YOUR IDEA There's nothing worse than launching to crickets. Let's make sure this doesn't happen to you by validating your idea before you create it.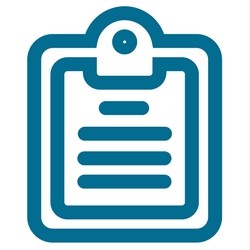 OUTLINE AND CREATE YOUR PRODUCT Staring down a blank page is the fastest route to failure, so let me show you how to create a detailed outline for your product that makes the actual writing and creation a breeze.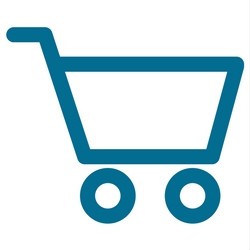 LEARN HOW TO SELL Creating a product is only half the battle, you also need to sell that puppy. I'll show you how to create a sales page, add "Buy now" buttons to your website and ensure you can take payment and deliver the product to new buyers, all on autopilot.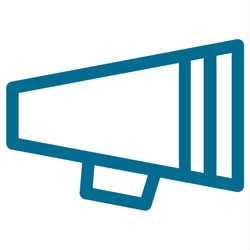 CREATE A MARKETING PLAN Digital products are magical because there are so many ways to promote them. I'll show you a few possibilities and give you some marketing ideas so you can grow your business.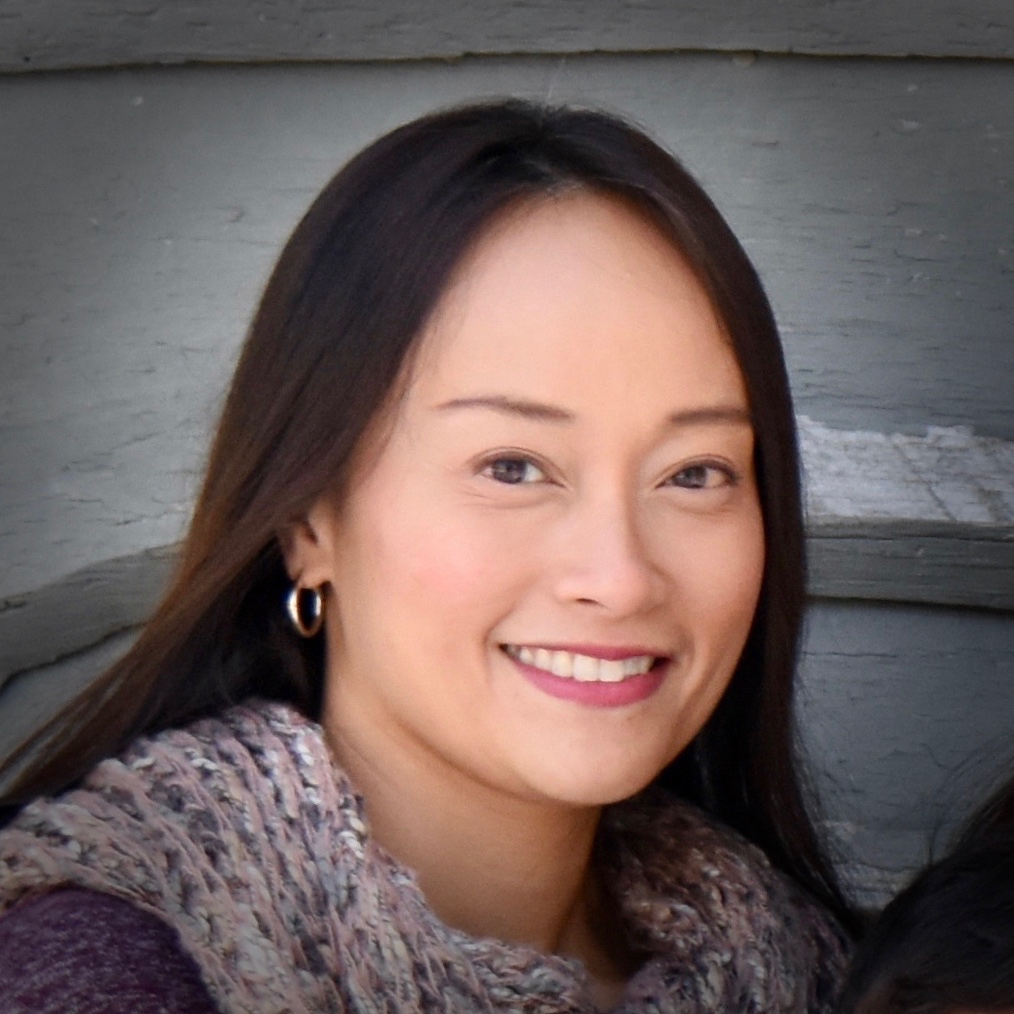 I've taken two other courses on building and selling a digital product, but Emily's workshop was by far the most worthwhile.
I learned so much in the course, and getting the chance to pick Emily's brain and hear ideas and feedback from the other participants was priceless. I've taken two other courses on building and selling a digital product, but Emily's workshop was by far the most worthwhile. It provided action steps, examples and resource lists. It was concise without any fluff. I will definitely recommend Emily's workshop to people I know who are looking to create their own product.
- Lynn Neville, Emma and Rose
Class Curriculum
Step 1: Brainstorm Product Ideas
Available in days
days after you enroll
Step 2: Validate Your Product Idea
Available in days
days after you enroll
Step 3: Create Your Product
Available in days
days after you enroll
Isn't it time to get out of your own way and create your first digital product?
This course is not open for enrollment.
Your Instructor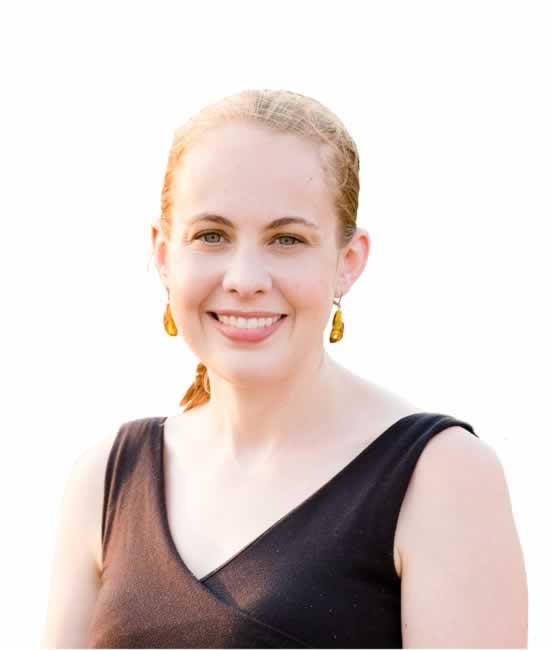 I'm a part-time blogger and full-time mama who helps bloggers overcome overwhelm so they can reach their goals faster.
I'm passionate about supporting side hustlers and solo biz owners because I know firsthand the struggle of never having enough time. Since starting my first blog in 2012, I've had two kids, lived in four different countries on three different continents and worked both full-time and as a freelancer.
During my 5 years in business, I've helped dozens of clients grow their online businesses with less effort and stress with my simple approaches.
Now I'm helping bloggers and side hustlers like YOU do all that at a fraction of the cost of hiring a business coach. When I'm not teaching or strategizing for my own business, you'll find me reading celebrity gossip magazines, snacking on licorice, or planning ill-advised trips with my two young children.
---
Frequently Asked Questions
When does the course start and finish?
You can start any time! The course is self-paced, and all materials will be available on Teachable, so you can access them any time.
How long do I have access to the course?
How does lifetime access sound? After enrolling, you have unlimited access to this course for as long as you like - across any and all devices you own.
What if I am unhappy with the course?
I would never want you to be unhappy! If you are unsatisfied with your purchase, contact me in the first 30 days and I will give you a full refund.
Are there any prerequisites?
The "No Fail" Digital Product Workshop works best for people who already have a website and have an email list with at least 100 subscribers.
Just think...
✅ If you write a $15 ebook and sell just 7 copies, you'd more than cover the cost of this course.
✅ If you create a $35 video course and sell just 3 copies, you'd more than cover the cost of this course.
I KNOW you can create a product you can sell three times. And I'm going to help you do it.
So what are you waiting for?
This course is not open for enrollment.