Thanks so much for stopping by! Planning for Success is not open for enrollment, but I'd love to have you join my VIP email list. I'll send you a free blog business plan template as a thank you, plus you'll be the first to know when Planning for Success re-opens. xo, Emily
Your problem isn't that you don't know enough- you do.
You just need a framework to turn your knowledge and ideas into a plan that works for you.
Here's how Planning for Success helped Cath: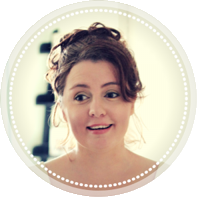 I've gotten more high priority things done than I have in months.
Before I took Planning for Success, I was so stuck. I had a million half-formed ideas and vague intentions about my blog and I couldn't make progress on anything.
I've been brain dumping for months and wasted pages of my bullet journal because I had no idea what the next step was after dumping it all out. I also used to get distracted by whatever new idea caught my fancy.
My favorite part of the course was listing out everything I could think of to get closer to my goal and then prioritizing it. I feel like other planning and productivity resources either skimmed over this or I just haven't understood it until now.
After taking the course, I've gotten more high priority things done than I have in months. I updated my resource list and started working on an ecourse. All things I've had on a massive and totally unmanageable to-do list for months.
Cath Oneissy, This Mama Learns

The truth is, you probably never learned how to manage your time effectively.
For most of your life, other people have told you how to spend your time. In school and at work, you've been told where you should be, what time to be there, and even what you should do while you're there.

So, it makes perfect sense that it's hard to manage your time now that you're the boss. It's a skill most of us were never taught and haven't had to practice.

You're already crunched for time because you're trying to balance so many different responsibilities. You're a blogger, a solo business owner, maybe a parent or an employee in a traditional job. You already have a limited amount of time to work on your blog or business.

And then, within your business, you're the CEO, the head of marketing, the accountant, the graphic designer, and the person creating all that content. Just to name a few roles...
It's no wonder you feel overwhelmed, or sometimes discouraged, or like you're not making any progress.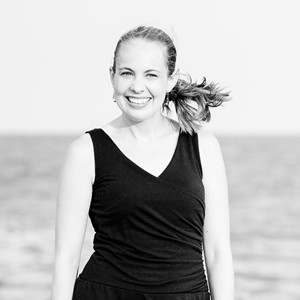 I used to struggle with time management, too, because I didn't understand that effective time management is more than following a schedule and checking items off a to do list.

Before I had kids, time management didn't really matter. I could take as much time as I wanted to pitch freelance clients, post three times a week on my blog, and read novels. Because no kids!
But now? I have no choice but to manage my time better.
Here's what 2016 looked like for me:
I started my online business the same week I found out I was pregnant. Blogging + morning sickness = fun times
I moved three times in two different countries. A solid 6 weeks of my year was spent packing and unpacking.
I had a baby. Between taking care of the baby and my three-year-old, mommy brain has hit me hard. I sometimes have to write down "Take a shower" on my calendar, otherwise I'll forget to do it.
But I also managed to earn $4000 from a single freelance client, triple the size of my email list while on maternity leave, and lay a foundation for monetizing my blog in 2017. All while working an average of 10 hours a week.
I'm not special.

I don't do anything crazy like wake up at 5 am to work on my blog. (But kudos to you if you do!)

I've just spent a lot of time researching and testing time management strategies. And here's what I've learned:

And here's what I've learned:

If you don't know how to set clear, actionable business goals, how to prioritize, or how to plan effectively, you won't make progress in your business. Even worse, you'll constantly feel scattered and overwhelmed.

That's the awesome thing about good time management: If you manage your time well, you reach your goals AND you feel an immense sense of clarity and purpose.
How do six-figure bloggers do it?


They have the same 24 hours as the rest of us, but they are somehow getting so much more done.


Here's the secret of successful entrepreneurs: They're not getting more done than you. And they don't have more time than you. They're just getting the right things done.


Successful entrepreneurs are crystal clear on their business goals.


They know how to prioritize.


They make the most of their time.


They know how to create a schedule that works for them (even if it doesn't work for anyone else).


They wake up in the morning knowing exactly what they need to do and how they're going to do it.

In short, they get things done. And the things they get done gets results.
Time management is essential for all entrepreneurs, but especially if...
You want to get clear on your business goals, so that you actually achieve them.

You want to feel energized and excited to work on your blog, instead of overwhelmed and discouraged by everything you have to do.

You want to finish each day knowing you got the right things done, so that you can relax and actually enjoy the freedom that blogging is supposed to provide.

You want to spend less time working on your business and feel more confident that your business is working for you.

You want to finally feel like you've found balance between your blog and the rest of your life.
Here's what you can expect from the course:
Case studies that are relevant to YOU. I know the unique challenges of starting your own blog and business because I've done it. The case studies and examples in the course are all blog-focused so you can see how these time management strategies work in the context of blogging.
Easy to fit into your schedule. Most of the lessons take just 5 or 10 minutes to complete, so you can progress through the course during those random moments of down time you get in your day. I'm a busy mama, I know you don't have hours of free time to get this done.
Easy to watch. I have a Master's degree in teaching and used to teach high school. Needless to say, if I can keep a 15-year-old engaged in a grammar lesson, I promise I'll keep you engaged, even when you're squeezing in these lessons at the end of a long day or before you've had your coffee.
Easy to implement. All of the action steps and workbook activities I've created for you are clear, simple, and effective. Like I said, I used to be a teacher! I've got years of experience creating educational content that helps students get results.
No fluff. This is a time management course, so you better believe I'm not gonna waste your time! I've intentionally designed the course to help you get maximum results with minimal time investment. Because that's what you're here for, right?

And here's one thing it's not:
A step-by-step proven formula that only worked for me. I believe that time management is a personal practice. I'm going to teach you a variety of time management and scheduling strategies, and you'll decide what works best for you. I'm going to give you tons of examples, and you'll decide what inspires you. I'm not going to force you to do everything the way I do it. I'm here to teach, guide, and support you, not to turn your daily schedule into a carbon copy of my own.
Introducing...
Planning for Success: Time Management for Bloggers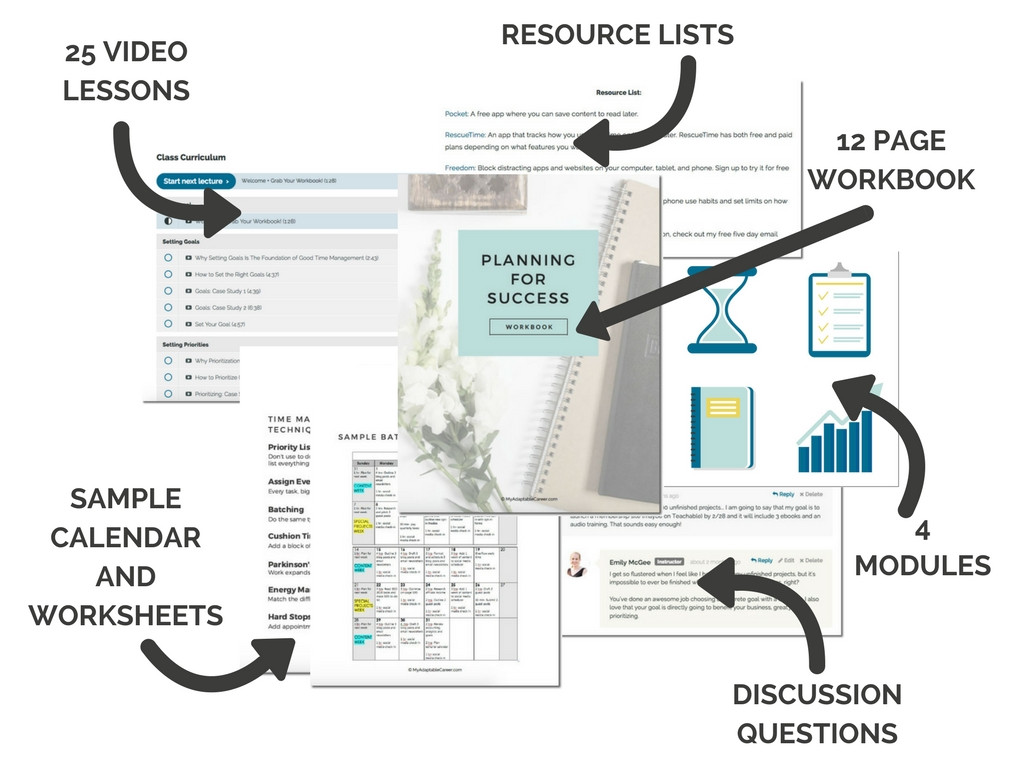 Here's what you'll learn in the course:
Module 1: Setting Goals

Learn why goal setting is the foundation of good time management

Learn how to set effective goals that will help you get results in your business

Write your incredibly effective goal using my simple framework as a guide

Module 2: Setting Priorities

Learn why prioritization is the secret to good time management

Learn a simple prioritization formula so that you'll always have clarity on what task to do next

Use the prioritization formula to create your own prioritized task list, designed to help you reach your goal as quickly and easily as possible

Module 3: Creating a Schedule

Learn 7 scheduling techniques to help you manage your time more effectively

Mix and match these techniques to create your own optimized schedule for achieving your big goal

Module 4: Overcoming Time Management Pitfalls

Learn the strategies and tools that will help you conquer distractions, interruptions, and overwhelm so that you can stick to your schedule
Your Instructor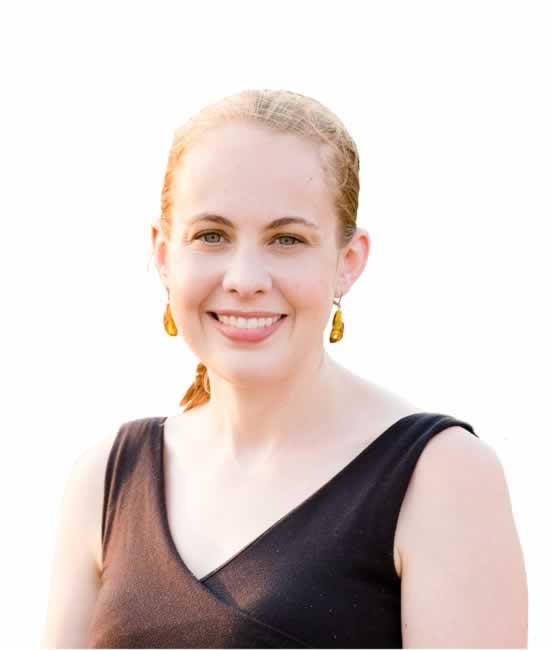 I'm a stay-at-home mama, freelance writer, and an expat. I'm passionate about time management because getting things done efficiently is the only way I stay sane in my chaotic life. Without robust planning and time management systems, I'd be lost. And so would my family.
---
I have a Master's degree in teaching from Brown University and taught both middle and high school language arts before becoming self-employed. My love of time management and productivity began when I was teaching 130+ students a day. Now I'm lucky enough to combine my love of teaching with my love of time management to help busy business owners like you reach your goals.

Class Curriculum
Welcome!
Available in days
days after you enroll
Setting Goals
Available in days
days after you enroll
Setting Priorities
Available in days
days after you enroll
Frequently Asked Questions
When does the course start and finish?
This is a completely self-paced online course - you decide when you start and when you finish.
How long do I have access to the course?
Forever! After enrolling, you have unlimited access to this course for as long as you like - across any and all devices you own.
What if I am unhappy with the course?
I would never want you to be unhappy! If you're unsatisfied with your purchase for any reason, simply email me and you'll receive a 100% no-hassle refund.
This course is not open for enrollment.